San Jose Courthouse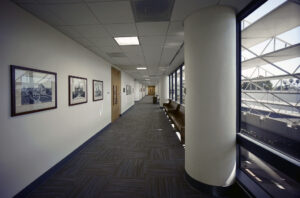 Exhibits of digitally restored historical photographs with narrative captions were installed in the public space, jury rooms, and chamber areas of the 9th District of the United States District Courts' Northern California facilities.
_________________
NEWS: July 23rd, 2009 – article from the San Jose Mercury News about our projects with Judge Breyer and the United States District Courts, written by journalist Scott Herhold
Location
Federal Building, 280 South First Street, San Jose
2nd, 4th, and 5th-floor public areas; jury rooms, chambers hallways.
Program
Exhibits depicting the greater San Jose area's history are on display in the public hallways outside the courtrooms on the 4th and 5th floors of the Federal building, and hallways leading to the Jury Assembly and the Clerk's offices in the Federal Building in San Jose.
The 65-piece exhibit was installed in December 2008, located in the San Jose Federal Building on South First Street.
Additional historical images are displayed in the Court's jury rooms, Chambers hallways, and attorney-client meeting rooms.
The judges of this local circuit selected the images for the displays, and also assisted with the editorial review of the detailed narratives and captions accompanying each piece.
Each piece has been digitally restored from various public and private collections including San Jose Public library, History San Jose, Oakland Public Library, and California Images. Custom picture framing and installation were produced in San Francisco by Eco Framing.
The program was augmented in 2022 with New Deal-era mural reproductions in each of the eight courtrooms. Primarily drawn from the Coit Tower, San Francisco, murals painted in 1934, other murals were sourced from Roosevelt Middle School, the old post office in Vacaville, and Sacramento City College.